Carrie Thornburgh, Founder and President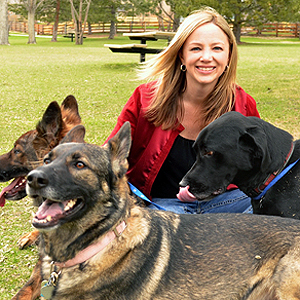 Carrie's passion for rescuing homeless animals began at a young age. If a dog could not find its way home, it was welcomed at the Thornburgh household (or hidden in the garden shed), until Carrie could help it find its way home. At age 25, Carrie owned a 12-acre farm in Alabama, where she was known for taking in everything from dogs, cats and horses to abandoned pot-bellied pigs and a rabbit named Ethel who was saved in her last moments from a pet store that intended to feed her to a python.
Carrie founded OutPaws because she has a passion for saving those animals that shelters and other rescues have abandoned. Carrie is driven by the desire to make Colorado a no-kill state, believing that almost any dog can become a good dog with the right care, training and love. She fosters numerous dogs regularly, works to educate pet owners and fosters on behavioral issues and training, and advocates for homeless animals. An adopter herself, Carrie is mom to Lorenzo, a potcake from Humane Society of Grand Bahama; Jimmie, a cat from a local shelter; and Edison, from a German Shepherd Rescue; as well as two other dogs, a cat and a horse. Her Labrador, Brody, is an avid frisbee enthusiast, and her German Shepherds, Edison and Edelina, participate in both Schutzhund sport and agility sport.
Passionate about helping the underdog, Carrie founded her own law firm, Thornburgh Law, LLC, in 2012 after working as a litigation attorney for 16 years for law firms and insurance companies. Her practice focuses on representing injured individuals in car accident cases, personal injury, worker's compensation and Social Security.
George Latsis, Board Member
Sherry Suchoski, Board Member