Carrie Thornburgh, Founder and President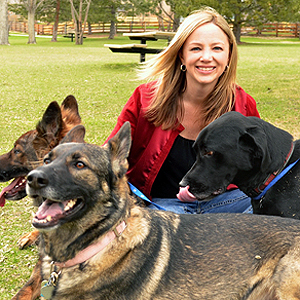 Carrie's passion for rescuing homeless animals began at a young age. If a dog could not find its way home, it was welcomed at the Thornburgh household (or hidden in the garden shed), until Carrie could help it find its way home. At age 25, Carrie owned a 12-acre farm in Alabama, where she was known for taking in everything from dogs, cats and horses to abandoned pot-bellied pigs and a rabbit named Ethel who was saved in her last moments from a pet store that intended to feed her to a python.
Carrie founded OutPaws because she has a passion for saving those animals that shelters and other rescues have abandoned. Carrie is driven by the desire to make Colorado a no-kill state, believing that almost any dog can become a good dog with the right care, training and love. She fosters numerous dogs regularly, works to educate pet owners and fosters on behavioral issues and training, and advocates for homeless animals. An adopter herself, Carrie is mom to Lorenzo, a potcake from Humane Society of Grand Bahama; Jimmie, a cat from a local shelter; and Edison, from a German Shepherd Rescue; as well as two other dogs, a cat and a horse. Her Labrador, Brody, is an avid frisbee enthusiast, and her German Shepherds, Edison and Edelina, participate in both Schutzhund sport and agility sport.
Passionate about helping the underdog, Carrie founded her own law firm, Thornburgh Law, LLC, in 2012 after working as a litigation attorney for 16 years for law firms and insurance companies. Her practice focuses on representing injured individuals in car accident cases, personal injury, worker's compensation and Social Security.
Jennifer Neal, Treasurer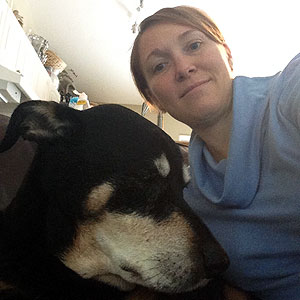 Jennifer has worked for 13 years in the areas of tax, accounting and corporate law. For the past nine years she has been in-house counsel for a private destination club with operations around the world. Jennifer focuses on tax compliance laws, legal entity and international accounting and taxation, corporate structure, equity and financing transactions, real estate, general corporate matters and employee and benefit matters.
She and her family have two dogs: Sydney, a 15-year-old Doberman-Rotweiler mix; and Sammi, a 3-year-old Doberman. Sydney has been a part of the family since the day she was born and really enjoys her walks. Sammi joined the family when she was 8 weeks old and has been keeping everyone on their toes since then with her high energy and vocalizations.
Jamie Saliman, Board Member
Dr. Jamie Saliman went to Washington University in St. Louis for her undergraduate degree, receiving a BA in psychology with a minor in biology. While taking some time to prepare for vet school, she took a position with AmeriCorps working with at-risk youth in downtown Denver. Shortly thereafter, she attended Colorado State University, where she received her doctorate of veterinary medicine. After graduating, Jamie did a one-year rotating internship before joining the staff of Deer Creek Animal Hospital. Jamie's main interests are internal medicine, emergency and critical care, and most recently abdominal ultrasound. "Animals are my passion. I feel extraordinarily fortunate to be able to spend my life caring for, and hopefully bettering the lives of, the very creatures that make me so happy.".
Jamie lives in Denver with her adorable French Bulldog pup, Monte. She enjoys running, reading, hiking, and traveling, but most of all she enjoys spending time with her family..