Not everyone is able to foster an animal, but you can still save a life! Our animals come from near and far. Overpopulated and underfunded, shelters often make limited and inaccurate adoptability assessments, putting many adoptable animals on euthanasia lists. Shelters are also often unable or unwilling to treat animals with special medical needs. We receive rescue pleas from shelters in Colorado, across the United States and even the world. We also receive surrender requests from pet owners due to illness or financial hardship.
By sponsoring an animal, you help us pull an animal from death row at a shelter or help an animal with emergent medical needs get treatment. A dog or cat that has no options as you are reading this page can have the hope of a second chance and of finding a loving forever home in the very next moment when you choose to sponsor now.
During checkout, please indicate in the message field the name of the dog or cat you would like to sponsor.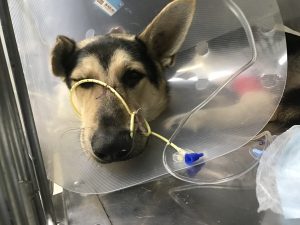 Fabio is a handsome and sweet 2 year old German Shepherd.  He came to us from Clovis, New Mexico on October 3rd.  Upon arrival, he was deathly ill with a temperature of 106.5 and urgently low blood sugar.  We rushed him straight to the emergency vet at Deer Creek Animal Hospital and he has been hospitalized there ever since.   He has numerous issues going on and is very ill with parainfluenza, corona virus and microplasma pneumonia.  He has not eaten since he arrived and now has a gastric tube to try to get food into his very sick and upset stomach.  He is a fighter and hasn't given up yet.  The staff all love him because even though he feels lousy and is in pain, he is always sweet and gentle.  Fabio is a young adult and has his whole life ahead of him. HELP FABIO today by sponsoring him here.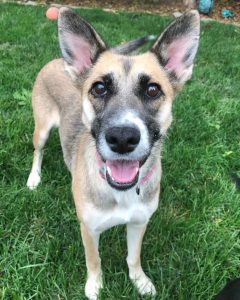 Sansa came to OutPaws in late early May from Gallup, New Mexico.  She had just had a litter of pups on May 4 and sadly, most of them had died. Her two tiny one week old puppies came with her and were doing well until late May. Around Memorial Day, Sansa and one of the pups came down with upper respiratory symptoms that turned out to be distemper. One of her remaining puppies died of the distemper, leaving Sansa sad and grieving. She recovered from the distemper and was doing well nurturing and caring for her one remaining pup. But then, she suddenly developed a hemorrhage in her eye called a hyphema. Sansa has been treated but continues to have ongoing issues with the eye and needs to see a specialist. To help Sansa get the medical treatment that she needs, sponsor her TODAY.