Not everyone is able to foster an animal, but you can still save a life! Our animals come from near and far. Overpopulated and underfunded, shelters often make limited and inaccurate adoptability assessments, putting many adoptable animals on euthanasia lists. Shelters are also often unable or unwilling to treat animals with special medical needs. We receive rescue pleas from shelters in Colorado, across the United States and even the world. We also receive surrender requests from pet owners due to illness or financial hardship.
By sponsoring an animal, you help us pull an animal from death row at a shelter or help an animal with emergent medical needs get treatment. A dog or cat that has no options as you are reading this page can have the hope of a second chance and of finding a loving forever home in the very next moment when you choose to sponsor now.
During checkout, please indicate in the message field the name of the dog or cat you would like to sponsor.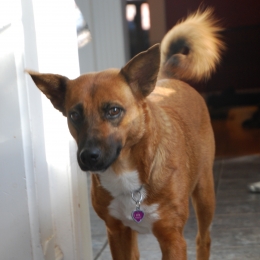 Buffi is a beautiful potcake dog from the Humane Society of Grand Bahama. "Potcakes" are the street dogs of the islands–so called because the people of the Caribbean islands have a tendency to toss the mixture of rice and peas that forms a cake in the bottom of the pot after cooking to the local street dogs. Buffi has heartworms and needs treatment to survive and get her chance at a forever family. Heartworm treatment is serious for dogs — a dog with heartworm must be medicated on expensive antibiotics for a month at the beginning of treatment. The dog will then go in to the vet's office for an injection of Immiticide (an expensive drug that is only produced in Europe and is hard to obtain). The dog remains hospitalized overnight for observation and then must be on crate rest for 30 days before receiving a second injection. Buffi has begun this expensive treatment, but needs your help to complete her course. HELP BUFFI today by sponsoring her here.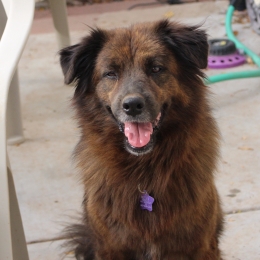 Shrek is the sweetest, most handsome boy you could ever meet! But Shrek has had a very hard life. As a puppy, Shrek had a home on the island of Grand Bahama. His owner neglected and abused he and his two siblings. At some point while with this owner, Shrek suffered a very serious trauma that resulted in a crushed pelvis and a fractured hind leg. His owner did not seek medical attention for him. A couple of years ago, a kind lady was visiting Grand Bahama from Austria and came across Shrek and his siblings, Fefe and Shadow. She saw their horrible state and the conditions in which they were living and contacted the Humane Society of Grand Bahama to see if they would take them in. HSGB took the 3 in and cared for them for a couple of years while trying to find them a future in the US. Shrek, Fefe and Shadow have now come to OutPaws and are in foster homes in Denver. We've had Shrek evaluated by our partners at Deer Creek Animal Hospital. His xrays are some of the worst we have seen. His left hip is horribly crushed and his right hip is also bad. The fractures in his left hind leg can be felt merely by feeling his leg. Shrek has great difficulty walking and can only stand for about 4 to 5 minutes. He experiences pain each and every day of his life, yet he is stoic, cuddly and loyal. We want to help Shrek as much as possible and our vets are going to conduct a series of surgeries to try to give him both relief from pain as well as some mobility. At the present time, there is no range of motion whatsoever in Shrek's hind leg and hip. We will begin with an FHO to the left hip and then decide where to go from there. If you would like to help Shrek experience a life without excruciating pain where he may be able to stand and walk comfortably, donate today so that he can get the surgeries he needs.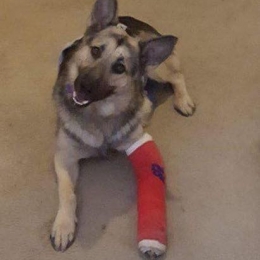 Evo is a beautiful male 2 year old German Shepherd. This boy's personality could not be better. Evo is a total lover who is happy to cuddle with any and everyone. Unfortunately, Evo was struck by a car in Kansas. He suffered a broken hind foot and a front leg that is broken in two places. His owners relinquished him to the shelter saying they could not afford his medical treatment. Evo laid at the shelter for over a week awaiting a second chance at life. OutPaws was happy to bring Evo to Denver so he could receive much needed medical care. Upon arrival, Evo could not stand and was shaking from pain. After x-rays, our amazing team at Deer Creek Animal Hospital splinted the back foot and then determined that perhaps his front leg would be able to heal on its own with casting. But after 3 weeks, his front leg has not improved, so it has become necessary to operate and insert a plate in the front leg. Evo will have a long road to recovery with many cast and splint changes. But this dog is such a pleasure to everyone he comes in contact with both at the vet's and in his foster home. He is content to lie on the table and let everyone work on him. He is truly a one-of-a-kind boy who is so deserving of his second chance. If you would like to help Evo get the medical treatment he needs to be on the road to recovery, DONATE NOW to cover Evo's surgery and recovery.