Not everyone is able to foster an animal, but you can still save a life! Our animals come from near and far. Overpopulated and underfunded, shelters often make limited and inaccurate adoptability assessments, putting many adoptable animals on euthanasia lists. Shelters are also often unable or unwilling to treat animals with special medical needs. We receive rescue pleas from shelters in Colorado, across the United States and even the world. We also receive surrender requests from pet owners due to illness or financial hardship.
By sponsoring an animal, you help us pull an animal from death row at a shelter or help an animal with emergent medical needs get treatment. A dog or cat that has no options as you are reading this page can have the hope of a second chance and of finding a loving forever home in the very next moment when you choose to sponsor now.
During checkout, please indicate in the message field the name of the dog or cat you would like to sponsor.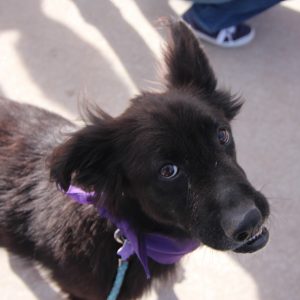 Promise is a beautiful potcake dog from the Humane Society of Grand Bahama. "Potcakes" are the street dogs of the islands–so called because the people of the Caribbean islands have a tendency to toss the mixture of rice and peas that forms a cake in the bottom of the pot after cooking to the local street dogs.  Promise was picked up on the streets and brought to the shelter.  She suffers from a grade 3 malocclusion (a severe underbite) that needs surgery.  She was emaciated upon arrival here and suffering from advanced heartworm disease as well.  Our doctors determined that the heartworm needed immediate treatment for Promise to survive and get her chance at a forever family. Heartworm treatment is serious for dogs — a dog with heartworm must be medicated on expensive antibiotics for a month at the beginning of treatment. The dog will then go in to the vet's office for a series of injections after which time the dog must remain on strict crate rest.  Following heartworm treatment, Promise will undergo oral surgery to help with her malocclusion. HELP PROMISE today by sponsoring her here.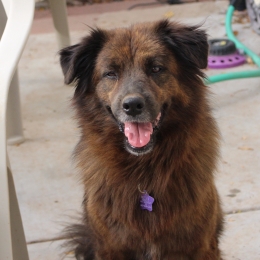 Shrek is the sweetest, most handsome boy you could ever meet! But Shrek has had a very hard life. As a puppy, Shrek had a home on the island of Grand Bahama. His owner neglected and abused he and his two siblings. At some point while with this owner, Shrek suffered a very serious trauma that resulted in a crushed pelvis and a fractured hind leg. His owner did not seek medical attention for him. A couple of years ago, a kind lady was visiting Grand Bahama from Austria and came across Shrek and contacted the Humane Society of Grand Bahama to see if they would take them in. In 2016, Shrek came to OutPaws in Denver for medical treatment. We had Shrek evaluated by our partners at Deer Creek Animal Hospital. His xrays are some of the worst we have seen. His pelvis was crushed and his left femur had been fractured in two places and rehealed improperly. Shrek has undergone two FHO surgeries to his hips over the last year and has been through a year of physical therapy.  He continues to be on daily pain medications and to participate in hydrotherapy and swimming to try to improve his mobility.  To help Shrek continue to the get the treatment he needs, sponsor him TODAY.
Polo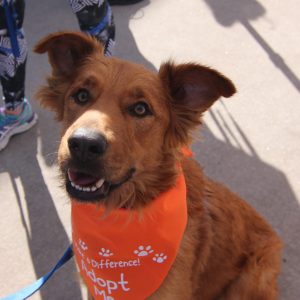 Polo is a handsome, goofy 4 year old Potcake from the Bahamas.  This handsome boy seems to be a mixture of Golden Retriever and Aussie.  He's smart, social and playful.  But Polo is suffering from heartworm disease and has begun medications to prepare for his treatment.  He will undergo a first injection with an overnight stay at the vet, then he will go on 30 days of crate rest.  He will then return for two more injections, followed by another 30 days of crate rest.  THEN, Polo will be just like new and free from the misery of heartworms!!  DONATE NOW to cover Polo's treatment and recovery.