Not everyone is able to foster an animal, but you can still save a life! Our animals come from near and far. Overpopulated and underfunded, shelters often make limited and inaccurate adoptability assessments, putting many adoptable animals on euthanasia lists. Shelters are also often unable or unwilling to treat animals with special medical needs. We receive rescue pleas from shelters in Colorado, across the United States and even the world. We also receive surrender requests from pet owners due to illness or financial hardship.
By sponsoring an animal, you help us pull an animal from death row at a shelter or help an animal with emergent medical needs get treatment. A dog or cat that has no options as you are reading this page can have the hope of a second chance and of finding a loving forever home in the very next moment when you choose to sponsor now.
During checkout, please indicate in the message field the name of the dog or cat you would like to sponsor.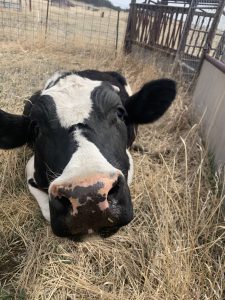 Milkshake is a "people cow."  This handsome 2 year old steer was purchased as a baby in Montana and kept in a small backyard as he was being raised for slaughter.  An actor on location in Montana was staying at a nearby hotel and met Milkshake on his daily walks. As he began to form a relationship with Milkshake, he was determined that Milkshake should not be slaughtered and started a Go Fund Me to save him.  After Milkshake's life was bought for a price, the actor and his co-workers set out to find a forever home for him.  A kind lady in Montana volunteered to take him and she and her daughter raised him from a calf to 2 years.  At that time, she realized he needed more space to roam and some bovine friends so she drove him all the way from Montana to Colorado so he can live out his life at the Sweet Home Sanctuary.  Milkshake loves to entertain volunteers while they work on the farm and enjoys pets and grooming.  He weighs about 2,000 lbs so he is an expensive boy to feed and maintain.  Would you sponsor Milkshake and his forever life free from slaughter?