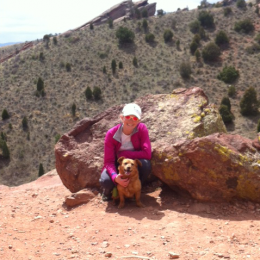 We had been searching for the right four-legged addition to our home for months when several friends recommended Outpaws. My wife and I live in Denver and were in search of a dog that would do well in a somewhat urban environment, but who also had enough energy to play in the mountains. Baxter has proved to be all that and more – a happy, healthy dog who is as content napping on the couch as he is hiking in the foothills. Although we initially had Baxter on a foster-to-adopt basis, it was clear from day one that our home was his forever home.
We are so glad we found Outpaws! Thank you.
-The Burkes – Denver, CO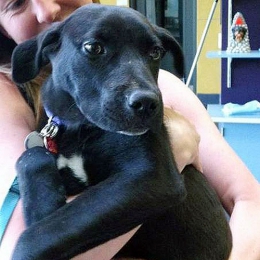 Chief was deemed "unadoptable" by the shelter because he was scared and unsocial. Within hours of leaving the shelter, he was the happiest, most well behaved puppy! He found his forever home within a few weeks, and has grown up to be a wonderful and handsome boy.
His Dad says: "Chief is doing very well here and we just love having him. We put a dog door in just for him and he will go outside and sun himself in the grass like a reptile. He's turned into a good watchdog, and my wife says he makes her feel very safe when I'm traveling for work. He is a good boy and we love him. Thanks to OutPaws for all you do to rescue these wonderful companions."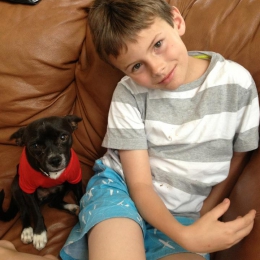 I began volunteering with OutPaws at the time of its start up. After providing temporary foster care for a few puppies after OutPaws' Potcake Lifts, my family and I agreed to temporarily foster a black Chihuahua coming in from Wyoming. Coolio started out as just another foster dog for the LaMotte family.
He was found in a parking lot in Torrington, WY at a place called Cool Customs. I'm sure this has something to do with how he was named. At ten months old he came with the best little personality, an enormous underbite and was perfectly bow-legged! After about a week it seemed as if Coolio had lived with us forever. We knew by then that we would become "foster failures" and give Coolio his forever home. Coolio gets along so well with our older dog, Rascal, and our two sons, AJ and Alex fell in love with him immediately.
Coolio is still a "teenager," but OutPaws has been great in providing us with suggestions for training and other resources.I feel that OutPaws works hard to ensure that its dogs are matched with the right family and is committed to following up with adopters to provide any assistance necessary to help the whole family transition. Many thanks to Outpaws Rescue for bringing a very special little dog into our lives!
The LaMotte family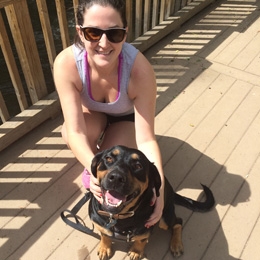 I moved out to Colorado knowing I wanted to adopt a dog to explore the new state with me. I had been looking around for a few months before I saw a picture of Emeline on the Outpaws website, and I knew immediately I had to meet her. Before meeting her, Carrie warned me she tended to be a little shy with strangers and could take awhile to warm up. However, the second I walked through the door, Emeline snuggled right up to me like she'd known me for years, and immediately stole my heart! I've only had Emeline for about two months now, but I already can't imagine life without her. She is the snuggliest puppy in the world, and likes nothing better than jumping up next to me on the couch and putting her head in my lap after I've had a hard day. Emeline is still a little wary of other people, but we're working on building trust and respect with training, and she makes progress every day (I've learned she'll do just about anything for a piece of cheese). She is an absolute delight in the mountains and loves playing in the water– and nothing is better than the huge smile she has on her face after a long walk. Thank you to Outpaws and to Carrie for finding me the sweetest girl to explore my new home state with– my life wouldn't be the same without her!
Sarah Blatchly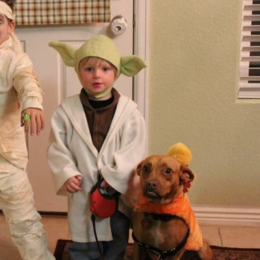 Last year we decided to look for a dog for our family but we really wanted to make the right choice. We both work and we have three children so we decided a puppy wouldn't be a responsible choice. I found OutPaws and immediately saw a dog we all loved. After contacting OutPaws, we learned she wasn't available anymore. We were upset and actually decided to put finding another dog on hold when we received an email from an OutPaws' foster mom. She had read our application and had a dog she said we just had to meet.
We drove an hour and a half, trying not to get the kids hopes up, to meet Imani. She was such a good baby and we decided to give it a go. Immediately she was sad to leave her fosters and it broke my heart. She laid around and wouldn't eat for several days. That's when I started taking her for jogs with me. She absolutely loved the jogs. Then, about two or three weeks after bringing her home, she crawled into my husband's lap and we knew she was going to be happy. Now we have been exploring, hiking, and jogging for 8 months and this baby has become a member of the family we could never be without. She goes by "Izzy" these days and never meets anyone who doesn't immediately love her.
We are so happy to have our little potcake! Hiking is her favorite weekend activity. For Halloween she was Tigger. She loves to watch me cook every day and waits for crumbs to fall.
The Williams Family
Fountain, Colorado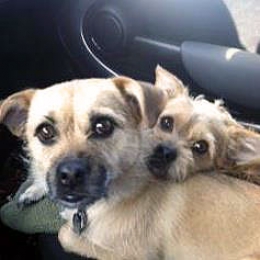 Patrick Mohawk Terrier joined our family in December 2012. Sure, he was cautious at first, but his Cairn terrier sister, Violet, soon taught him the ropes. Thus far, she has taught him which couch cushion is the comfiest and which provides the best vantage point, that green tennis balls are the best, not to be scared of people, and most importantly how to sit for treats.
Thank you to OutPaws Rescue! Patrick is a joyful addition to our family.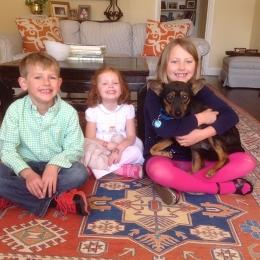 I was introduced to Petey through Kiley, a coworker of mine who also happens to be an OutPaws foster. She and I had talked about my family looking for a dog, but also that we were not sure about what type of dog would be the best fit for our life with three small children.
I hadn't given our conversations much thought until a few months later when Kiley mentioned that she was fostering a dog that might be perfect for us. My wife and I went to meet Petey with the thought that a rescue dog would not work out. We were wrong. As soon as we left, our conversation turned to how Petey was the perfect dog for us. After meeting the kids, there was no question that we wanted him to be with us.
We've had Petey for four months now and needless to say, he is a part of our family. He loves "herding" the kids, playing fetch, going for walks and relaxing in the sun.
Thank you OutPaws for all the work that you do. You found the perfect dog for us.
The Thomas Family
Denver, CO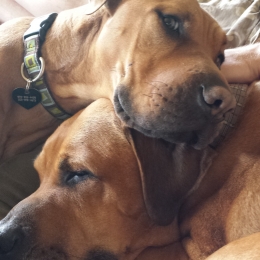 We had been searching for a very long time for the perfect buddy for us as well as our current dog. After months of scouring local shelters and rescues we found OutPaws and Reeva, now known as Pippa. She is an absolute love, so very sweet, smart, playful and an expert cuddler. She also gets along fabulously with our other dog, and has settled into our household and our routine really well. Pippa's fosters Bob and Susan were absolutely wonderful and stuck with us throughout the entire adoption process. They answered all of our questions and even made extra trips out with Pippa so we could be sure she was the perfect match for our family. We will continue to work on manners, especially on leash, but Bob and Susan have laid an excellent foundation for us to build on, we are so thankful for all of their time and hard work making this lovely girl such a great pet!
The Troyer Family
Silverthorne, Colorado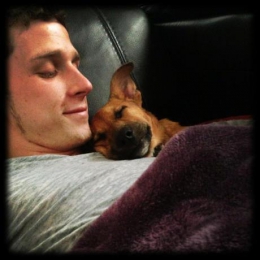 We can't tell enough people about OutPaws and how thankful we are for our Potcake. We adopted Ruger from his foster mom, Carrie Thornburgh, after the Potcake Lift in March. He was a tiny puppy when we took him up.
He is growing up so fast and becoming the sweetest dog. I have to tell you, having four cats as his primary pack influence has made for some hilarity. His absolute favorite thing to do is to play with all the cat toys—the more bird-like the better. Yesterday I watched him chase a feather stuck on his tail until he fell over dizzy but happy as could be. He's our favorite little goober.
All in all we can't thank OutPaws enough for Ruger. He truly is such a beloved companion and the perfect addition to our family. Thank you again and never hesitate to let us know how we can help you all in any way.
The Reynolds family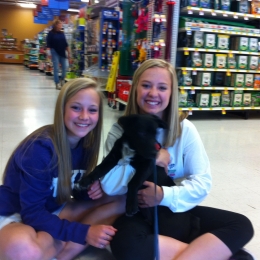 On behalf of my family and I, I would like to thank you with my whole heart for bringing "Patch" (now "Ryder") into our lives! We brought him home Easter morning and have fallen in love with him more and more each day! I would say he is potty trained now considering he has only had a few accidents in the house and he has become quite the explorer! Again I would just like to thank you all for being so fast to respond to my family and help us bring our puppy home! Your organization is something very special!
Love,
Bill, Diane, Melissa, Caitie and Ryder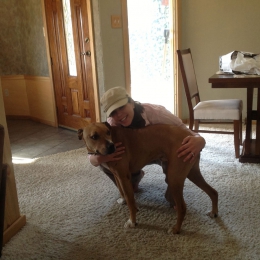 It's hard to say how grateful I am for Carrie. Through Carrie, I adopted Sawyer, who is now the love of my life. He is cuddled up next to me as I type this letter.
Many foster dogs are perfectly "normal" and "easy." Not Sawyer. He had pretty bad separation anxiety. His disorder, by the way, makes him extra loving.
Carrie made sure to tell me EVERYTHING I needed to know about Sawyer and his needs before I even got to meet him in person. She told me the good, the wacky, the goofy, and the real difficulties I needed to know about him. She helped me fully know what I was committing to by accepting this boy into my life. Every word of what Carrie told me was true, and I genuinely appreciated having such great insight before I brought Sawyer home. My understanding about Sawyer's personality and needs helped me create a good transition for us both.
Once I adopted Sawyer, Carrie was very accessible and gave me great advice and resources any time I needed them. It took a lot of patience to figure out just how to help Sawyer adjust and to ease his separation anxiety. He was this sweet boy, who just needed love and commitment. He needed someone not to give up on him. We tried a few different kinds of medicines, 2 different kennels (then figured out he's perfectly ok walking around free while we are away), we video taped him while we were gone to see how he was doing, we played special dog music for him, and even tried an air freshener that was supposed to help him relax. He and our other dog didn't get along at first. We worked with a dog behaviorist, in addition to talking with Carrie almost daily in the beginning. Reading this now, it seems like a lot of work, and it was. But, in the end, we were rewarded with the absolute best dog in the whole world. He is sweet, loyal, hilarious, well trained, and well balanced. He gets along great with our other dog. We have figured out the best way to manage his anxiety, and nobody who meets him can tell that he even had a problem. It just took commitment and love from us. I am so glad that we didn't give up on Sawyer.
My experience showed me that nothing is more important to Carrie than placing the right dog with the right family. For that reason, I will comfortably refer my friends and family to OutPaws.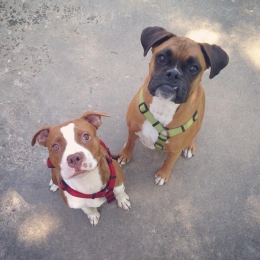 We lost our 12 year old Pomeranian in November 2013. Our family just seemed to have a hole in it with only two doggies around. We decided it was time to foster again. Labs, Pomeranians, mutts and the like all stayed with us until they found their forever homes. Saying goodbye to a foster is never easy, but knowing they are going to a family who is perfect for them makes it joyful all at the same time. April rolled around and we were asked to take in a pit bull puppy who was found in a dumpster. Who can say no to helping a puppy who was thrown away by someone?! So, naturally, we agreed to take in the pup and thanks to awesome OutPaws volunteers, he was transported to us. This sad, slumped little dog came home and napped for hours on the floor by our feet. He was exhausted. Once he woke up from his slumber, we got to really meet this sweetest (dirtiest) little red nose brindle-bodied baby boy. Who would throw this little one away?? It was heartbreaking to think about. In the next few days we took him to the vet for a check-up and shots and that's where we discovered just how sweet tempered he really was. He loved every person and every animal he came across. That weekend we took him to the park where he showed us his love for kids. He was fantastic with them. He was such a great dog – we were instantly in love with him. The adoption applications soon came rolling in for the little foster boy that we fittingly named Tabasco. Even people at the dog park inquired about this charmer on a regular basis. However, I just couldn't bring myself to actually contact any of the interested families. He was already apart of our family. In fact, our Boxer, Ollie already claimed him as his little brother. And so Tabasco became our first "foster failure". We officially adopted the little dumpster puppy. Today he is a confident, playful comedian who is about to turn 1 year old. Additionally, he is the most genuinely loving, cuddly dog we have ever had in our home! Tabasco has really opened our eyes to breed discrimination and just how truly unfair and wrong it is. We have become very active in advocacy for the breed and hope to help end BSL! Thank you OutPaws for everything you continue to do for the animals in our community!